From a very young age, I had a love and appreciation for art. I'd sit for hours watching my Grandfather as he painted massive, rugged landscapes in oil. Each brush stroke told a story and created a memory. It was here that I first fell in love with art. In college I studied art at Cal State Long Beach and after graduation, worked as a staff artist for Ralph's, a grocery chain in Southern California.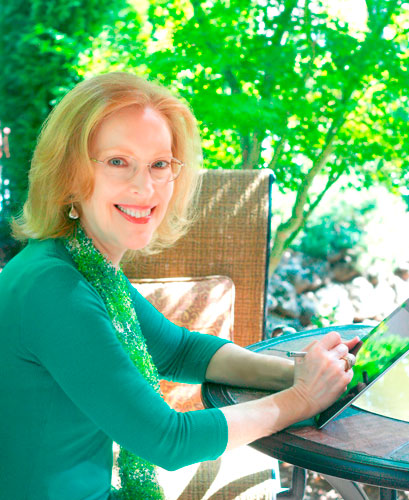 After starting a family, I wanted to spend more time at home, so I left my job and started working freelance. I worked on all sorts of odd jobs, portraits, calligraphy, product art and so forth. After a tragic loss in our family, the Lord blessed me with a project that would prove to be very cathartic. I was commissioned to paint 14 near life-size paintings depicting the Passion of Christ for my church, St Denis Catholic Church in Diamond Bar, CA. The project spanned 2 years, consuming my artistic energies and involving everyone in our family in one way or another. I felt very honored and humbled to receive this commission and felt the Lord's hand in this the whole time.
Shortly thereafter we moved to Oregon, drawn by small town living and the beauty of the Pacific Northwest. Moving and starting fresh was tough and financially it was a struggle early on. At one point, I worked at the mall in a discount art gallery, anything to stay connected to the art world, if only in a small way. I spent the slow hours at night in the store drawing posters for upcoming sales. All the while, I never stopped working on my portfolio, trusting that the Lord had a plan for the talent I'd been given.
After years of submitting artwork, I received my first publishing deal with Arthur Kaplan to produce the Stations of the Cross in print. Their office was on 34th Street in NY and we laughed, it was our own miracle on 34th street. Not long after this, I started working with Lightpost Publishing, Danbury Mint and then The Bradford Exchange. When I painted my first little angel for Bradford, my career was officially launched. I've always been passionate about creating art for products. This was my start in licensing and I've never looked back.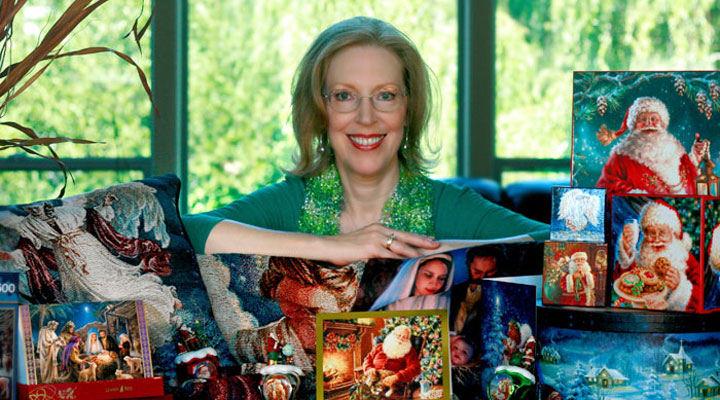 We've been in business over 25 years now and I'm as driven today as I was when I first started. I work alongside my husband and son, running our licensing agency in the amazing Rogue River Valley of Southern Oregon. We have provided art to over 100 companies across the globe. We're grateful for each one of them and the wonderful people who buy our products in stores. I thank God everyday for all the guidance and blessings we've been given along the way.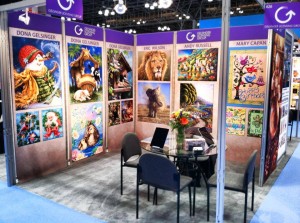 We are the exclusive licensing agency for Dona Gelsinger and her library of artwork spanning over 30 years.  Our business was founded in 1994 by husband and wife team, Brian and Dona Gelsinger. What started out as a small publishing company, quickly evolved into a licensing agency providing designs for manufacturers throughout the world.  Today, the agency is operated by Dona's son, Jesse who has been with the company since 2003.
The two greatest compliments we can receive are, "Your art is a best seller" and "You're so easy to work with".  Our primary goal as a design agency is create artwork that will help our customers sell more products and gain a competitive edge in a crowded marketplace. We accomplish those goals by studying the industry, listening to our customers, speaking with sales reps and retailers and pouring our heart and soul into the creative process. As a current or future licensing partner, we want you to know just how much we value and appreciate your confidence and investment in our work.
From Our President and Dona's son, Jesse Gelsinger: "Mom has worked her entire life to hone her craft and has become one of the most celebrated artists in her generation. Her work is collected and sought after worldwide, but you'd never know it by meeting her. She is a humble and selfless person and gives all glory to the Lord. She lives her life full of gratitude for all the blessings our family and business has received."
If you're a manufacturer looking for art and design, give us a call.  We'd love the opportunity to build a licensing relationship with you.