About Us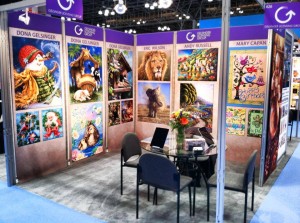 We're an art licensing agency. Our mission is to make products beautiful, stand out and fly off the shelf.
There's something magical about walking through a store and coming across a product you helped create. That feeling of pride and excitement never gets old.
If you happen to catch us rearranging our items to the front of the shelf, please don't call security, we just can't help ourselves. 😉
We've been in business since 94 and experienced all the changes, highs and lows, that have occurred in retail, publishing, manufacturing and so forth.  Although many things have changed, one thing remains constant, if you have truly exceptional art and design and you care about your customers, you will find success.  We have the pleasure of working with some incredible companies, many of whom we've been with for well over a decade.
The two greatest compliments we can receive are, "Your art always sells great" and "Thank you for being so easy to work with".  If we're doing those two things consistently, then we're happy campers.  As a current or future licensing partner, we want you to know just how much we value your investment in our company.  We go to great lengths to study each market we work in to make sure we're providing the right designs, for the right customers.
If you're a manufacturer looking for art and design, give us a call.  We'd love the opportunity to build a licensing relationship with you.